Our Voipia FE™ Platform professionally answers your inbound calls with a customizable Announcement or Auto Attendant and then routes your calls around the office, to desk phones, to employee cell phones, and to "Special Employee Home extensions," so your employees can work away from the office. If you don't answer, Voipia FE™ will try multiple phone numbers to find you.
If your company is using standard business phone lines from the local phone company, or you have an older, feature-limited phone system, Voipia FE™ can give your company all the advanced telephone features you need.
There is no special phone equipment to buy, install, or maintain.
You no longer have to wait for your telephone vendor to make changes or add extensions. Changes are made easily online.
Your business can also benefit by seamlessly connecting out-of-office personnel through your main number and Auto Attendant. Bundle in Voipia VoIP Business lines, and your employees can work form home.
One-time Set up fee of $ 99.00

Additional extensions at only $ 12 each

Receive a 10% discount for adding a Business Unlimited line
Making small businesses sound so LARGE
It is easy to set up and maintain. Here is how it works.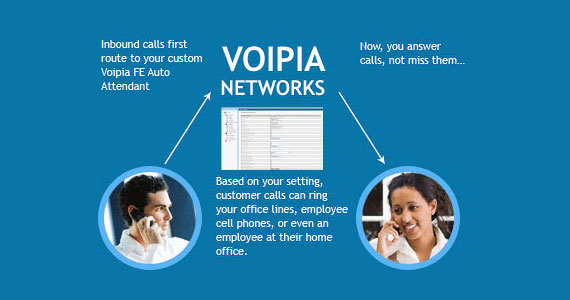 Request a Voipia Sales Representative to contact you