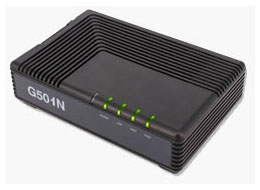 Voipia Analog Telephone Adaptor (ATA)
The Voipia customized ATA Device connects a single analog phone or fax at your home or office to the Voipia Platform. Simple to install and easy to use.
$ 49.95
Yealink W79P Base and Rugged Handset
Designed for harsh working environments, the ruggedized DECT handset (certified to IP67) has an integrated Bluetooth and vibration alarm. The handset provides a premium audio quality and communication experience. The ruggedized handset seamlessly Voipia Networks' platform and is Ideal for small and medium-sized businesses.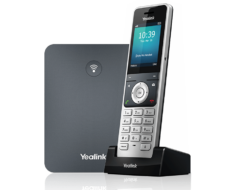 Yealink W76P Base and Handset
The Yealink W76P Package is a high-performance SIP cordless phone system and the ideal solution for small and medium-sized businesses. With 30 hours of talk time, it allows you to enjoy superb mobility and efficient flexibility immediately. The cordless phone set eliminates the need for additional wiring. This DECT IP cordless phone supports up to 10 VoIP accounts and 20 concurrent calls.
Base Antenna and Handset:
*equipment does require Voipia Phone Service Business Lines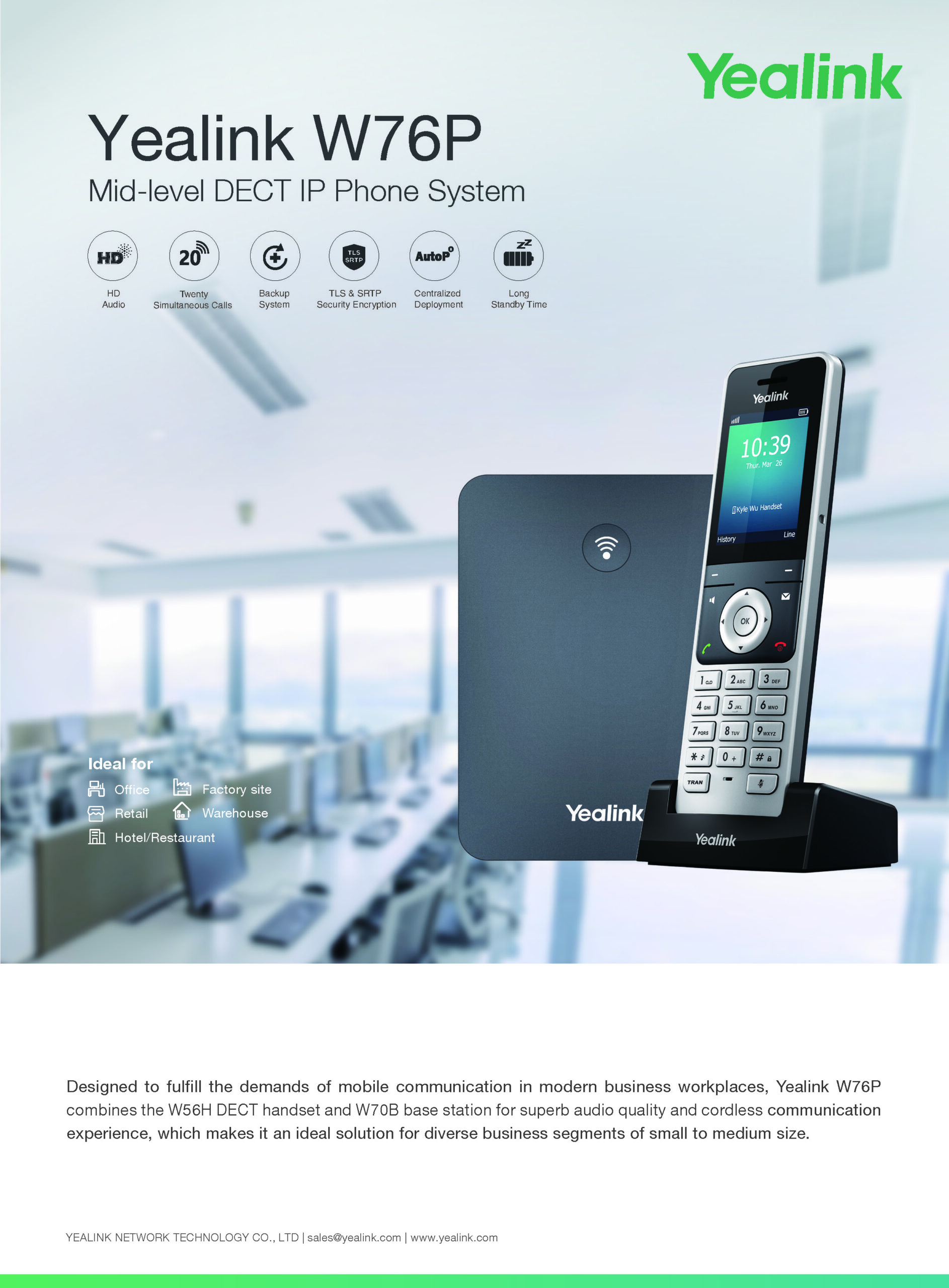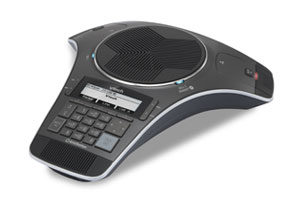 vTech VCS752 ErisStation SIP Conference Phone with two wireless mics
vTech VCS752 ErisStation SIP Conference Phone with two wireless miss includes 1 fixed microphone and 2 DECT 6.0 wireless microphones with Orbitlink Wireless Technology and support for up to 3 SIP counts. Full-duplex speakerphone in base DECT 6.0 for wireless speakerphone expansion. Bluetooth connectivity for headset and mobile pairing. Up to 12 hours of talk time per wireless microphone.


$449.00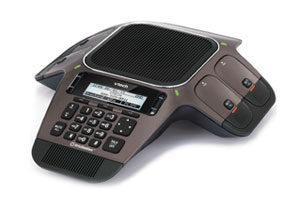 vTech VCS754 ErisStation SIP Conference Phone with four wireless mics
vTech VCS754 is perfect for offices with very large conference rooms.  It comes with four removable DECT 6.0 microphones. Unlike traditional conference phones, ErisStation lets everyone spread out and speak without having to gather around the phone or raise their voices. Advanced audio features, such as acoustic echo cancellation, automatic gain control and dynamic noise reduction, deliver premium, interference-free sound quality. Plus, integrated design makes it easy to charge the microphones right in the base and keep everything together.


$549.00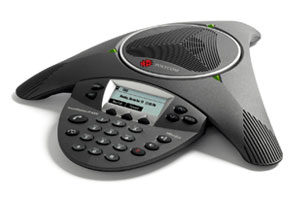 Polycom SoundStation IP 6000 with power supply
Polycom IP 6000 with Power Supply features Polycom HD Voice technology, boosting productivity and reducing listener fatigue by turning ordinary conference calls into crystal-clear interactive conversations. It delivers high-fidelity audio from 220 Hz to 14 kHz, capturing both the deeper lows and higher frequencies of the human voice for conference calls that sound as natural as being there.
The Polycom IP 6000 includes full-duplex technology that eliminates distracting drop-outs to the latest echo cancellation advancements.


$799.00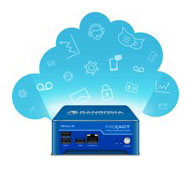 The Voipia ipPBX25 is our standard offering for customers with 25 or less desk phones users to start.
Partnered with Sangoma, Voipia brings our customers a True Asterisk Phone System with the features included. Voipia makes the right technology affordable, and our monthly all inclusive program is a predictable expense. No Surprises!
ipPBX25 with Licensing:       $995.00
*Activation, Support, IP Phones, and Voice SIP Trunks sold separately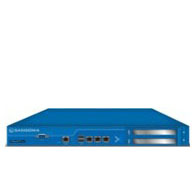 The Voipia ipPBX60 is a robust and high featured solution for customers with 60 or less desk phones users to start.
We often deploy these servers to larger medical offices or medium size call centers.  The ipPBX supports enhanced inbound Call Center routing and features, along with outbound appointment scheduling options.  Voipia makes the right technology affordable, and our monthly all inclusive program is a predictable expense. No Surprises!
ipPBX60 with Licensing:       $2495.00
*Activation, Support, IP Phones, and Voice SIP Trunks sold separately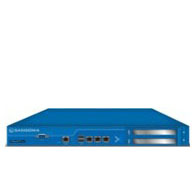 Voipia Hybrid PRI / SIP ipPBX
The Voipia Hybrid ipPBX is a game changer in the industry.  It allows customers that are locked in to a contract with a Traditional Phone Service Provider to make the move to Voice over IP.  The ipPBX server accepts both a traditional PRI Phone Line and our Voipia SIP Trunk Phone Service.  The ipPBX server can be deployed at a single office site, or linked with multiple Voipia ipPBX supported servers to bring all your offices in to a single calling plan.  Sharing your network resources not only saves you money, but it also makes your office phone system easier to manage.
Voipia makes the right technology affordable, and our monthly all inclusive program is a predictable expense. No Surprises!
Hybrid ipPBX with Licensing:    varies
*Activation, Support, IP Phones, and Voice Phone Services sold separately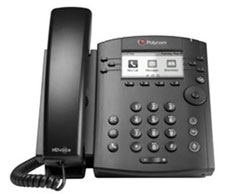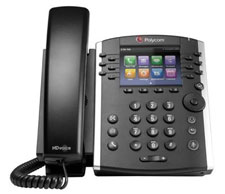 The Polycom VVX 401 12-line Desk Phone with HD Voice delivers breakthrough Polycom® HD Voice quality for life-like conversations, while minimizing fatigue making calls more efficient and productive. The phone provides personalized information at a glance, through built-in web applications and custom backgrounds. It is ready for future expansion modules as your users' need and business grows.


$199.00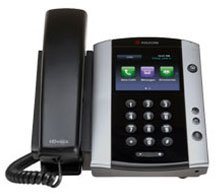 The Polycom VVX 501 12-line Business Media Phone with HD Voice is a Performance Business Media phone with the world's best high definition audio, video playback, and business application integration delivering best-in-class desktop productivity and Unified Communications for the knowledge worker (the busy professional). Using the large, high-resolution graphical display and the 48 keys, the SIP-T28P offers an excellent user experience when making calls.

299.00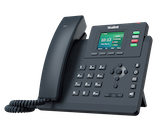 An entry-level color screen IP phone with high performance, Yealink SIP-T33G offers support for 4 lines and includes local 5-way conferencing. Additional features include a dual-port Gigabit Ethernet with integrated PoE, EHS35 support for Yealink wireless headset, and adjustable multi-angle stand support. These features allow the SIP-T33G to be a high-quality but cost-effective classic IP phone that maximizes productivity.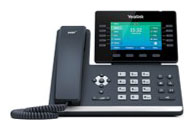 Designed for busy executives and professionals, Yealink SIP-T54W is an easy-to-use Business Phone with an adjustable 4.3-inch color LCD screen that you can easily and flexibly find a comfortable viewing angle according to your personal needs. With the built-in Bluetooth 4.2 and dual-band 2.4G/5G Wi-Fi, the SIP-T54W IP Phone ensures that the user can move quickly around the office and/or take their Desk Phone to their home office.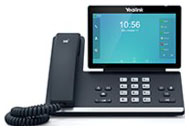 The Yealink SIP-T58A is a simple-to-use smart media phone that provides an enriched HD audio and video calling experience for business professionals. This all-new smart media phone enables productivity-enhancing visual communication with the ease of a standard phone. Based on Android 5.1.1 operating system, the SIP-T58A features a seven-inch adjustable multi-point touch screen, integrated Wi-Fi and Bluetooth 4.0+ EDR, and it is coupled with a built-in web browser, calendar, recorder and more.


including power supply: $349.00
including video camera: $449.00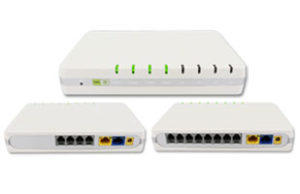 The Flyingvoice SIP Gateway
This Voipia configured SIP Gateway provides clear and reliable voice quality over standard Internet connections. Used with Voipia SIP Trunks, this gateway is purchased most often as a replacement for local Business Phone lines. It comes in a 4-Port and 8-Port model for small and medium size offices that have existing phone systems.
4-Port Gateway: $ 129.00
8-Port Gateway: $ 199.00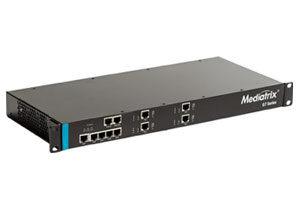 The Mediatrix G7 Series is a reliable and secure VoIP Analog Adaptor and Media Gateway platform for SMBs. Featuring PRI, FXS, and FXO interfaces; the Mediatrix G7 Series provides the best solution to connect legacy equipment to cloud telephony services and IP PBX systems to PSTN landlines.

G7 – 1 PRI: $ 995.00
G7 – 2 PRI: $ 1,585.00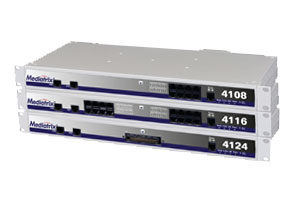 The Mediatrix 4100 Series VoIP Adaptor
The Mediatrix 4100 Series VoIP adaptors are high-quality, cost efficient VoIP gateways connecting small to large branch offices to Voipia's IP network, while preserving existing investments in analog telephones and faxes. Voipia's SIP Trunk Service is converted to Plain Old Telephone Service (POTs). With multiple Call Features and our Network overflow options, customers can save significant money over traditional phone service providers.

4108 Gateway: $ 479.95
4116 Gateway: $ 795.95
4124 Gateway: $ 995.95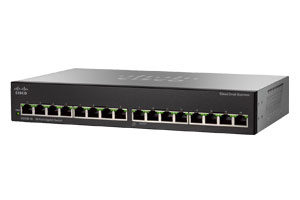 The Cisco 16-port Gigabit Switch
The Cisco 16-port Gigabit Switch is a rack-mountable switch designed to suit any office space and to optimize power efficiency. It provide reliable connectivity for your business demands. It is a business-class, affordable network solution.
$139.00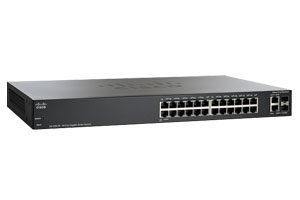 The Cisco 24-port Smart Switch
The Cisco 24-port QOS Switch is a rack-mountable switch with the flexibility and reliability that growing business can count on. Use this switch to connect up to 24 Voipia IP Phones as well as to share network resources such as servers and network-attached storage. Quality of service (QoS) enhances network performance and improves the quality of voice. The switch includes two combo mini Gigabit Interface Converter (GBIC) ports that can connect your servers or backbone at Gigabit speeds.
$229.00
Additional Taxes and Fees may apply. Shipping and Handling Fees may apply.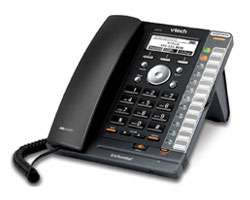 The VSP726 professional IP desk phone is an easy-to-install, cost-effective system with the features you need to be successful. Because it uses DECT 6.0 technology, the VSP726 makes it easy pair an inexpensive cordless headset or handset option. With the touch of a button, you can pair a handset and/or headset to take calls away from your desk. This 4-line business phone has the ability to Hold, Park, and Transfer your customer calls inside and outside the office.

$159.00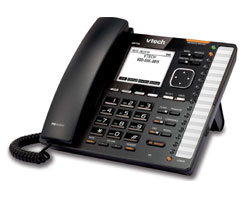 The VSP736 professional IP desk phone uses 16 programmable buttons to provide 6 business lines, and quick access to phone network features like speed-dials, Busy Lamp Fields, Hold, Park, and transferring of calls. Because it uses DECT 6.0 technology, the VSP736 makes it easy pair an inexpensive cordless headset or handset option. With the touch of a button, you can pair a handset and/or headset to take calls away from your desk. This 4-line business phone has the ability to Hold, Park, and Transfer your customer calls inside and outside the office.  The large B&W LCD Screen makes managing calls more efficient and productive.

$199.00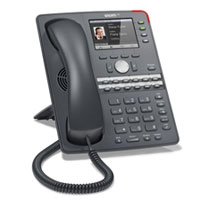 The SNOM D765 combines ease of use, versatility, design quality and audio performance. It offers a 3.5" high-resolution color TFT display that delivers rich information – such as photocaller ID – to the user. 16 freely programmable multicolor function keys can be configured for a variety of one-touch telephony functions such as speed dial and busy lamp field.
This desk phone features two Gigabit Ethernet ports, built-in Bluetooth compatibility and a high-speed USB port for easy connection of accessories including a USB or Bluetooth headset, a WiFi stick or a D7 expansion module. Superior audio quality is delivered by the advanced speaker and microphone system and the Digital Signal Processor (DSP).

$299.00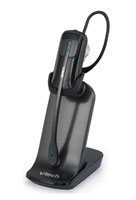 vTech VH6102 DECT Cordless Headset
Keep your customers on the line, even when you're on the move in your office. Answer and end calls right from your headset—up to 300 feet from the base. Mute, flash and volume controls make it easy to multi-task, while DECT 6.0 technology and a noise canceling microphone deliver interference-free conversations. Plus, a magnetic charger in the cradle ensures the headset fits and charges securely, so you'll never run out of battery during long calls.
$69.00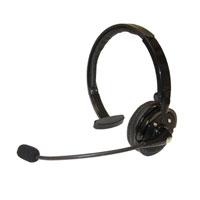 Zelher P20 Bluetooth Headset
Enjoy the freedom of and comfort of talking on your Voipia Desk Phone without the drawbacks of wired headphones when you purchase the Zelher P20. As one of the best Bluetooth noise cancelling headphones on the market, customers enjoy crystal clear sound with ultimate padded comfort. When working in a busy office, your conversation won't be disturbed unless that is what you wish, because of the headset's 4x eternal noise blocking technology. With the headset's superior microphone, your friends and clients will have no clue that you work with a headset.
$49.95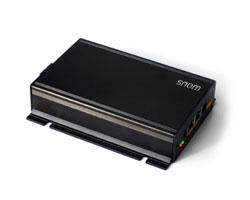 SNOM PA1: Public Address System
Snom has developed a SIP bridge (PA1) enabling businesses to extend their existing public announcement speaker system while upgrading from digital/POTs systems into SIP-based voice communication solutions. The PA1 can be used in both small and large applications due to the inclusion of a 4-watt amplifier for single speaker projects. Offices can utilize multiple speakers driven by external high wattage amplifier(s). The PA1 serves as an auto SIP answering preamp that drives the multi-speaker setup.


$189.00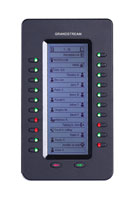 Grandstream Expansion Module
GXP2200EXT delivers additional functionality, versatility and flexibility to Grandstream enterprise IP phone. The GXP2200EXT module features a large 128 x 384 graphic LCD and 20 programmable buttons (each with dual color LED). In addition, it allows up to 40 extensions per module by using the 2 page switch keys and up to 160 buttons when 4 extension modules are daisy-chained together. The GXP2200EXT module is connected, powered, and controlled by the phone, providing the benefits of the additional keys instantly.
$139.00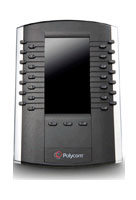 Polycom VVX Expansion Module
The Polycom VVX Color Expansion Module is an optimal solution for telephone attendants – receptionists, administrative assistants, secretaries, and other "power users" who manage multiple simultaneous telephone calls on a daily basis. The Polycom VVX Expansion Module extends the functionality of Polycom VVX Business Media Phones and provides multifunctional line keys that can be set up as line registrations, call appearances, speed dials, direct station select or busy lamp field keys. The VVX Color Expansion Module seamlessly matches the look and feel of the VVX Business Media Phones.
$225.00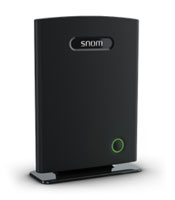 SNOM M700 Multi-Radio Base Station
The SNOM  M700 IP DECT multi-cell base station provides VoIP wireless coverage across several floors or throughout large buildings. Each base station can be configured for up to 30 handsets.  Connected SNOM  M65 cordless handsets enjoy IP phone system features such as direct search in the corporate directory and HD audio.  The M700 supports DECT encryption to increase coverage. Wireless security is ensured by DECT encryption. Setup is easy and intuitive and there are no additional license charges.
$373.00

To place your order today, call 888.486.4742
Voipia Networks
Provider of Advance
Voice & Data Services
Around the World
Where We are
Main Office
3941 Park Dr. # 20-133
El Dorado Hills, CA 95762
Contact Us
tel.: +1 (916) 293-5300
fax.: +1 (916) 293-5301
e-mail: info@voipia.net